Sante Maris Otter is named after the Belgian type of malt used in the brewing process. The first aromas meet you right away. The perfumes of heather and citrus clearly indicate floral and fruity notes with even a spicy touch even though the aromas always remain soft and subtle.
The grassy start flows into a refreshing taste. Crisp & fresh. Despite the rather low alcohol percentage Santé Maris Otter has a lot of body and taste. The beer combines its hoppy personality with a pleasant smoothness with regard to its flavour.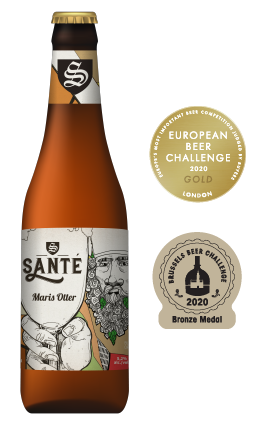 food pairing
This blond beer is an ideal partner with snacks or dishes with a clear salty
and/or smoked note.
The fine bitterness of the Santé Maris Otter softens the saltiness
and smokiness with these notes and rebalances the flavours.
Its character cuts effortlessly through heavy and full dishes.
colour
This golden blond and deliciously clear beer with
a creamy white foam collar treats you on a seducing sight.
hop
100% Belgian, with hops of Poperinge.
available in
33cl
4x 33cl
24x 33cl
Key keg 20L